Britney announces split from David Lucado
Britney announced today that she has split from her boyfriend of two years, David Lucado, and is single again. Britney, who revealed she is still writing and recording new music, posted on Twitter, "Ahhhh the single life!" amidst rumours that a video of David cheating on her was recorded by a photo agency and sold to her father.
Britney takes part in #ALS #IceBucketChallenge
Britney has taken part in the #ALS #IceBucketChallenge phenomenon that's spreading ALS Awareness across the globe on social media. With less than 50% of the general public aware of amyotrophic lateral sclerosis (ALS), also known as Lou Gehrig's Disease, the Ice Bucket Challenge is making a profound difference. Find out more and donate here.

Catching up with Britney before her Las Vegas return
How was your summer?
"My summer was awesome. It's been a while since I've gotten to spend summer vacation with my boys – I'm usually working! We had a really good time. It was just so great to be able to attend all of Preston and Jayden's basketball games. And I got to go with them to the skate park and watch them learn how to skateboard. I'm a proud mama!"
Did you miss performing in Vegas?
"Most definitely. This was a longer break from the show than we normally have, so I was feeling the itch to get back on stage a few weeks into it. I can't wait for tonight!"
What are you most excited about with the Intimate Britney Spears range?
"I've been working on the Intimates line for quite some time, so it's really exciting for me to see my vision come to life. We have a few fashion shows coming up next month to launch the line, it'll be fun to see my designs on the runway."
Your body is looking great…
"Thank you so much! The most important thing to me is that I feel great too. I just did a shoot for a health and fitness magazine."
Why the name Fantasy Stage for your latest fragrance?
"The bottle is modeled after one of my favorite stage performances. Something about a big yellow snake…"
What would you like to tell your fans?
"I want to thank all of my fans for their love and support through the years, it means everything to me."
Britney talks about The Intimate…
Britney spoke to E! News about her new lingerie line, the Intimate Britney Spears, saying: "It is so important for women to feel confident, sexy and empowered, especially in those private moments with the one they love. The Intimate Britney Spears will do exactly that. Each line in the collection is beautiful with vintage-inspired details and fit for all women. I love feeling sexy, so this is definitely a passion project for me, I can't wait!"

The Intimate Britney Spears lingerie line to launch
Britney Spears has announced her line of sleepwear and lingerie entitled 'the Intimate Britney Spears', with retail partner CHANGE Lingerie, a leading company in lingerie with over 180 stores worldwide. The collection will launch on 9th September at an exclusive event in New York City, with an appearance by Britney, and will be available for sale in the USA and Canada on the same day. The European launch will follow on 26th September.
The Intimate Britney Spears brings Britney's vision of luxurious sleepwear to life with playful pieces for every woman to feel beautiful across ten romantic lines. The collection includes feminine lingerie sets, vintage inspired bustiers and kimonos, as well as relaxed loungewear such as jersey camisoles, shorts and sweats. Highlights of the garments include detailed shoulder straps and stunning embellishments, in addition to crochet edges, satin ribbons, and lace trim.
"Every woman should feel confident and beautiful in everything she puts on. My vision for the Intimate Britney Spears is to create pieces that are sexy, luxurious, and comfortable at the same time. I am excited to introduce this collection because I feel that we accomplished exactly that."
Full Story…
More Piece of Me show dates announced
Britney ends her sold-out run of Piece of Me dates at Planet Hollywood this Saturday, marking the perfect time to announce the next run of dates from August 2014 through February 2015. Tickets go on sale this Friday at 10am PT here. Due to the massive success of Piece of Me to date, there are rumours that the residency will be extended beyond Christmas 2015 and go on for a third year in 2016.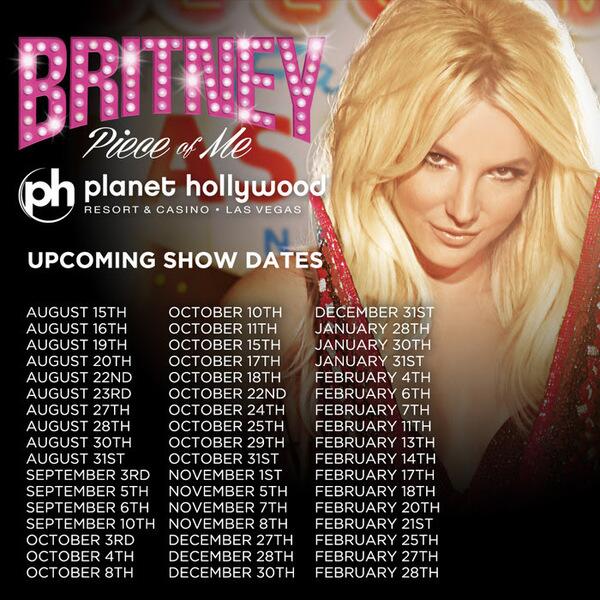 Michelle Bell and Angela Hunte talk "Original Doll"
Hunter Schwarz of Buzzfeed has been investigating "Original Doll," Britney's 'secret album' which she mentioned in December 2004 when she premiered a demo of "Mona Lisa" on KIIS FM. Following the premiere, Jive Records denied the album existed and weeks later on "TRL," Britney herself changed her mind about the album referring to "Chaotic," her UPN TV show.
In 2003, Britney released "In The Zone," making it clear she wanted to have more input into her records, particularly songwriting. Michelle Bell first met Britney in 2002 when she was recording with Darkchild, and Britney played "Everytime" to her on the piano, hesitant of playing it to her A&R, Steve Lunt. "She definitely can play the piano, no one really knows that. She said nobody really listens to her. She just wanted somebody to say I believe in you beyond this pop machine. After a while, she sort of trusted me. 'Look Who's Talking' (written in 2002, but later recorded by Korean singer, BoA, and released in 2008) was totally about Justin Timberlake. It was all, 'let's not put it all out there'. Britney was like, 'He'll know what we mean, but the rest of the world won't'," Michelle said. In one line, she remembered, Britney used the word "justify" for its double meaning; "I was true to you, justify my point of view."
Full Story…
"Britney Sounds Off" in "People" magazine
Britney Spears, 32, dishes on getting back to work, getting in shape and cheering on her lil' sis.
On her Spring Break…
"My time off was a blast! It was probably one of the best breaks I've had in a long time. I went to Jamie Lynn's wedding in New Orleans – I can't believe my baby sis is all grown up! – and then spent a few days running around on the beach in Hawaii with my boys."
On her hot bod…
"I feel great, I really do. I've been trying to change up my workouts by getting outdoors more. I am channeling my inner athlete, playing a lot of basketball and more recently taking tennis lessons. Serena Williams, watch out!"
On her sexy job…
"Sin City is calling my name! Don't get me wrong, I love being at home in L.A., but the performer in me is excited to get back into show mode. The dancing, the costumes, my fans singing along to my songs – it's such a huge adrenaline rush. And I love tying someone up every night during 'Freakshow'!"
Piece of Me confirmed for DVD in 2015
Planet Hollywood have officially confirmed that Piece of Me will be released on DVD, saying on Twitter: "The DVD [of] her current Piece of Me show will be on sale after her shows are over, so after 2015."
Danja posts Britney #DanjaTBT Video
Nate 'Danja' Hills, who worked with Britney on tracks for "Blackout" and "Circus," as well as being asked to contribute demo tracks for "Britney Jean," has posted a video of three tracks that were unused after submission.
WWD Talk to Marco Morante about Piece of Me Costumes
Marco Morante, the costume designer for Britney's Piece of Me show, spoke to Women's Wear Daily Footwear News about his work on the show.
How extensive are the costume changes during the show?
There are 20 songs and seven acts, so Britney changes costumes and shoes seven times. In the end, we made 35 pieces for her, and for the 14 dancers we made more than 250 pieces.
What is your favorite thing about Britney's Vegas style?
Stylewise, it's a nice meld between paying homage to iconic moments in her career and modern-day Vegas glitz and glam. During 'Everytime', she's dressed like an angel in a 14-foot dress and floating through the crowd."
Let's talk about the footwear. What shoes stand out on stage?
Many of them are customized by me. For the final number in the last act, she wears a customised pair of Balenciaga boots, and she has some personalised wedge sneakers by Nike and Isabel Marant for 'Perfume', 'Boys' and 'Me Against the Music'. And she wears heels and wedges made from scratch.
Which shoes are you proudest of making for the show?
The shoes she wears when singing 'Circus'. They're a bronze-metallic leather ankle boot, and from the back of the heel to the front of the shoe, there are black-and-white Swarovski crystal stripes.
"Unbroken" leaks online – listen and lyrics
"Unbroken," a previously unreleased Britney track has leaked online today, written for "Femme Fatale" by Lindy Robbins and Fraser T. Smith, who worked with Britney on tracks for the album. Fraser T. Smith, who produced the track, confirmed that the leak is an unfinished demo, a 'work in progress' that features both Britney and Lindy Robbins on lead vocals.
Full Story…
Britney files comments about copyright law to USA government
Government officials in the USA are considering changing copyright law to allow anyone that pays a fee to be allowed to use a song in any way they wish, bypassing the artist. Steven Tyler, who performed with Britney at the 2001 Superbowl, is spearheading a campaign to stop the change, which would remove control over the way a performer's music is presented to the public.
If changed, the law could allow companies to purchase the rights to use music in advertisements and political campaigns, giving the impression that the performer endorses or approves their product. Joe Walsh of the Eagles stated in his letter, "It denies my rights under the Copyright Act to engage in fair market negotiation with the respect to exploitation of my work." Britney Spears, Steven Tyler and other musicians share this sentiment and hope their efforts protect their work from unwanted exploitation.
Britney performs "Alien" in Piece of Me
After changing plans for it to be included in the original setlist, Britney has performed "Alien" for the first time in her Piece of Me show in Las Vegas, replacing "Do Somethin'." Following "Freakshow," Britney was handed a handheld microphone by one of her dancers and sat on a stool to perform the first part of the track before singing the track whilst walking around the stage.
"I Am Britney Jean" now airing on E! UK
E! UK currently have the full, uncut "I Am Britney Jean" on their schedule; the show is unfortunately censored, but includes all of the missing segments that were edited from the ITV's "I Am Britney Jean: Britney Spears' Road To Las Vegas."
The show is due to air on Thursday at 9pm, Friday at 7am, Saturday at 11am and 9pm, Sunday at 4pm and Monday at 8am on E! and E! HD.
Lady Gaga attends Piece Of Me in Vegas
Lady Gaga visited Britney's Piece Of Me show in Vegas, telling her fans on LittleMonsters.com (her social networking site), "Me and BritBrit! She looked so gorgeous, the show was so much fun, and her dad gave us the best homemade BBQ, it was one of the best things I've ever eatin' in my LIFE!"

"Britney's Fears" – "Stella" magazine interview
With a new, highly personal album just out and a two-year (extremely lucrative) Las Vegas residency imminent, who can blame the superstar Britney Spears for looking worried? She tells Peter Robinson (of Popjustice) about motherhood, perfectionism, heartbreak – and why she's feeling the pressure.
"This is scary," admits Britney Spears, looking mildly alarmed. In an hour, the pop superstar will climb on to a small stage, perch on a stool in front of the worldwide media and numerous record executives, and give "Britney Jean", her eighth album, its first public airing. She'll be joined on stage by her producer will.i.am, but the audience will focus on just one person, as she introduces songs, including her new single, "Perfume", from an album that promises to delve further than ever before into the life of this surprisingly shy icon. "I'm eager for people to hear what I've been working on," she adds. "But I'm so nervous at the same time, because it's such a personal album for me."
Full Story…
"Now That I Found You" available for USA radio adds
"Now That I Found You" was officially added yesterday to Promo Only OnLine (POOL), a distributor for radio and professional DJs across the USA, allowing them to download the track and add it to their playlists.
The official third single from "Britney Jean" has yet to be announced; Britney previously hinted in "I Am Britney Jean" that "Alien" would be the next single from the album, whilst RCA recently serviced "It Should Be Easy" featuring will.i.am for remixing.
Marco Marco speaks about Piece of Me costumes
Marco Marco, who designed the costumes for Britney's Vegas residency, Piece Of Me, has taken part in Out magazine's Popnography speaking about the costumes he designed for the show.
Did you bring a different twist to the show? Did you add some extra flair because it's Vegas?
I mean, Vegas is always a good opportunity to make it a little bit more wild. There're opportunities to be maybe sexier than you would be outside of there, and there're also opportunities to create outfits that are maybe a little larger than life.
Full Story…
Initial box scores for Piece Of Me in
The first Billboard box office scores for Piece of Me at the Axis at Planet Hollywood have been announced; the four dates (27th, 28th, 30th and 31st December 2013) saw Britney play to 17,803 people grossing $2,470,021 (£1,504,274).