"The Essential Britney Spears" UK release set for 30th October
"The Essential Britney Spears" will be released in the UK and Europe on 30th October 2014; the two disc set features 32 of Britney's USA hit singles, including "From The Bottom Of My Broken Heart" instead of "Born To Make You Happy," and was originally released in August 2013, before being immediately deleted due to the impending release of "Britney Jean" and reprinted and reissued earlier this year.
The UK edition features a revised front cover, fitting in with all European 'The Essential' artwork, but the same tracklist as the USA edition.
Bild interviews Britney
Bill spoke to Britney, whilst she was promoting The Intimate Britney Spears in Germany about music, fashion, her future aspirations and more.
Which do you prefer to make: music or fashion?
Music, but I have a shopping addiction – I buy so much I should commit to a shopping rehab, and I'm not exaggerating when I say that!
Do you regret anything from your past?
I feel good, regardless of the past. I have been here 33 years and have two wonderful children. I am now more aware of my actions and decisions; I have become more cautious compared to the past.
Do you ever look at photo albums from when you were a child?
Sometimes – my mom keeps a photo album of when I was a child.
How do you explain your career to your children?
I tell them that mommy is a singer, a pop star who wants to entertain people and make them happy. If my kids want to do something more straightforward, then they should do this. I would recommend that they become doctors or lawyers – my job is difficult, with negative people, so I am not sure I'd recommend it to them. If anyone wants to follow my line of work, they have to be very confident and strong-willed.
How long do you want to stay in music?
I'd say another 10 years. I hope to get married and have more children soon, but I have not found the right guy. Everything happens for a reason and that's a good thing – I do not regret anything.
Britney talks to Richard on "Good Morning Britain"
Britney confirms Vegas residency extension
Britney has confirmed she will be performing Piece of Me in Las Vegas until 2017, telling Good Morning Britain that the residency has been extended by a further two years giving her consistency and grounding. She said: "The way I used to travel all around the world and do a different show every night, I'm like, 'How did I do it?!' Promotion is a different story, and going to a different city every day, like what I'm doing now, it's really hard. But being based in Vegas and having one show that you just keep going back to, the consistency of that is really grounding and really cool."
Britney talks to Bunte in Germany
Britney is now in Germany, promoting the Intimate Britney Spears, on her whirlwind European promotional tour. She showcased her new haircut, telling Bunte that she's "been wanting to do this for a year now – last night I got my hairdresser and I was like 'Glenn! Please cut my hair! Just cut it all off!' He was like 'Are you sure? Do you really want to do this?' So we did it!" and that she would love to be pregnant again.
Britney talks to On Demand Entertainment in London
Britney chatted to On Demand Entertainment, whilst promoting The Intimate Britney Spears in London, talking about her wish to work with Gwen Stefani, Katy Perry and Iggy Azalea, recording both 'I hate men' and 'I love men' songs for her new album and her lingerie collection.
Britney talks to "Good Morning America"
Britney spoke to "Good Morning America" on the eve of the launch of her new lingerie collection, The Intimate Britney Spears.
Britney talks to "ExtraTV" about her new album and more
Britney told "ExtraTV" she is working on her 9th studio album 'slowly' and 'progressively'.
"I want to do something very artsy fartsy. Something that I've never done before — even if I go take a left lane and go into a little bit of rock or rock-pop. Just do something kind of out there and different."
On potential collaborators, she added she would like to collaborate with Katy Perry and Iggy Azalea.
The Intimate Britney Spears Ambrosia Collection Advert
"I am an art
Paint me in pastels
The softest blush of roses playing peek-a-boo on sheer nylon
Paint me satin and embroider me with mother of pearl
Paint me feminine with a bow and let me feel like a little girl
This is the art of being a woman
And remembering the feelings of a girl"
Britney talks love and Tinder with "People"
During a chat with "People" at Tuesday's presentation of her lingerie collection, The Intimate Britney Spears, in New York, Britney said she hasn't closed the door on a cyberspace connection. When asked if she will be joining other celebrities 'swiping right' on dating app, Tinder, she said, "Maybe! Who knows? Possibly."
Britney knows what she wants in a man – "I like a guy to be just really sweet. Really sweet and to make me laugh: Those are the two main things that are important to being with someone." But her lingerie collection will suit single ladies too – "I think with our world, [dressing up in lingerie for a man] is probably culturally what you're expected to do. But normally, I wear it alone in bed, with myself, and I'm happy. It's empowering for a girl to do that alone!"
Britney split with boyfriend David Lucado in August over his alleged infidelity and is clearly moving on. At a recent show during her residency in Las Vegas, she told the crowd: "The best thing about being cheated on is I get to go on more first dates."
Britney's back in the studio

Britney is back in the studio, recording for her 9th studio album, having recently resigned with RCA Records.
Britney announces split from David Lucado
Britney announced today that she has split from her boyfriend of two years, David Lucado, and is single again. Britney, who revealed she is still writing and recording new music, posted on Twitter, "Ahhhh the single life!" amidst rumours that a video of David cheating on her was recorded by a photo agency and sold to her father.
Britney takes part in #ALS #IceBucketChallenge
Britney has taken part in the #ALS #IceBucketChallenge phenomenon that's spreading ALS Awareness across the globe on social media. With less than 50% of the general public aware of amyotrophic lateral sclerosis (ALS), also known as Lou Gehrig's Disease, the Ice Bucket Challenge is making a profound difference. Find out more and donate here.

Catching up with Britney before her Las Vegas return
How was your summer?
"My summer was awesome. It's been a while since I've gotten to spend summer vacation with my boys – I'm usually working! We had a really good time. It was just so great to be able to attend all of Preston and Jayden's basketball games. And I got to go with them to the skate park and watch them learn how to skateboard. I'm a proud mama!"
Did you miss performing in Vegas?
"Most definitely. This was a longer break from the show than we normally have, so I was feeling the itch to get back on stage a few weeks into it. I can't wait for tonight!"
What are you most excited about with the Intimate Britney Spears range?
"I've been working on the Intimates line for quite some time, so it's really exciting for me to see my vision come to life. We have a few fashion shows coming up next month to launch the line, it'll be fun to see my designs on the runway."
Your body is looking great…
"Thank you so much! The most important thing to me is that I feel great too. I just did a shoot for a health and fitness magazine."
Why the name Fantasy Stage for your latest fragrance?
"The bottle is modeled after one of my favorite stage performances. Something about a big yellow snake…"
What would you like to tell your fans?
"I want to thank all of my fans for their love and support through the years, it means everything to me."
Britney talks about The Intimate…
Britney spoke to E! News about her new lingerie line, the Intimate Britney Spears, saying: "It is so important for women to feel confident, sexy and empowered, especially in those private moments with the one they love. The Intimate Britney Spears will do exactly that. Each line in the collection is beautiful with vintage-inspired details and fit for all women. I love feeling sexy, so this is definitely a passion project for me, I can't wait!"

The Intimate Britney Spears lingerie line to launch
Britney Spears has announced her line of sleepwear and lingerie entitled 'the Intimate Britney Spears', with retail partner CHANGE Lingerie, a leading company in lingerie with over 180 stores worldwide. The collection will launch on 9th September at an exclusive event in New York City, with an appearance by Britney, and will be available for sale in the USA and Canada on the same day. The European launch will follow on 26th September.
The Intimate Britney Spears brings Britney's vision of luxurious sleepwear to life with playful pieces for every woman to feel beautiful across ten romantic lines. The collection includes feminine lingerie sets, vintage inspired bustiers and kimonos, as well as relaxed loungewear such as jersey camisoles, shorts and sweats. Highlights of the garments include detailed shoulder straps and stunning embellishments, in addition to crochet edges, satin ribbons, and lace trim.
"Every woman should feel confident and beautiful in everything she puts on. My vision for the Intimate Britney Spears is to create pieces that are sexy, luxurious, and comfortable at the same time. I am excited to introduce this collection because I feel that we accomplished exactly that."
Full Story…
More Piece of Me show dates announced
Britney ends her sold-out run of Piece of Me dates at Planet Hollywood this Saturday, marking the perfect time to announce the next run of dates from August 2014 through February 2015. Tickets go on sale this Friday at 10am PT here. Due to the massive success of Piece of Me to date, there are rumours that the residency will be extended beyond Christmas 2015 and go on for a third year in 2016.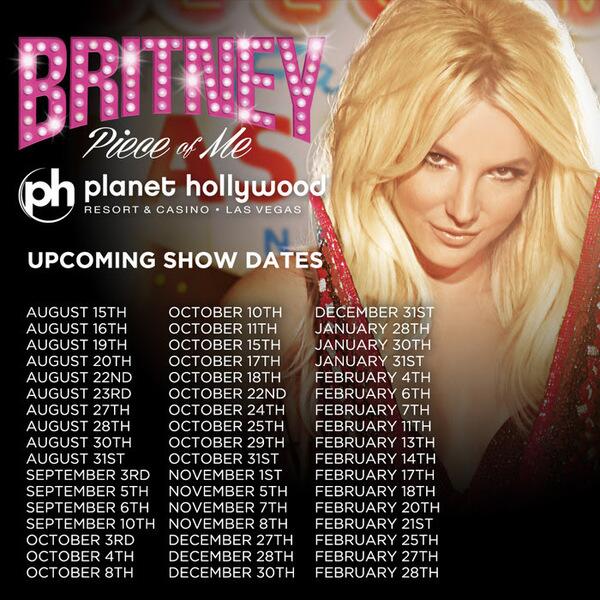 Michelle Bell and Angela Hunte talk "Original Doll"
Hunter Schwarz of Buzzfeed has been investigating "Original Doll," Britney's 'secret album' which she mentioned in December 2004 when she premiered a demo of "Mona Lisa" on KIIS FM. Following the premiere, Jive Records denied the album existed and weeks later on "TRL," Britney herself changed her mind about the album referring to "Chaotic," her UPN TV show.
In 2003, Britney released "In The Zone," making it clear she wanted to have more input into her records, particularly songwriting. Michelle Bell first met Britney in 2002 when she was recording with Darkchild, and Britney played "Everytime" to her on the piano, hesitant of playing it to her A&R, Steve Lunt. "She definitely can play the piano, no one really knows that. She said nobody really listens to her. She just wanted somebody to say I believe in you beyond this pop machine. After a while, she sort of trusted me. 'Look Who's Talking' (written in 2002, but later recorded by Korean singer, BoA, and released in 2008) was totally about Justin Timberlake. It was all, 'let's not put it all out there'. Britney was like, 'He'll know what we mean, but the rest of the world won't'," Michelle said. In one line, she remembered, Britney used the word "justify" for its double meaning; "I was true to you, justify my point of view."
Full Story…
"Britney Sounds Off" in "People" magazine
Britney Spears, 32, dishes on getting back to work, getting in shape and cheering on her lil' sis.
On her Spring Break…
"My time off was a blast! It was probably one of the best breaks I've had in a long time. I went to Jamie Lynn's wedding in New Orleans – I can't believe my baby sis is all grown up! – and then spent a few days running around on the beach in Hawaii with my boys."
On her hot bod…
"I feel great, I really do. I've been trying to change up my workouts by getting outdoors more. I am channeling my inner athlete, playing a lot of basketball and more recently taking tennis lessons. Serena Williams, watch out!"
On her sexy job…
"Sin City is calling my name! Don't get me wrong, I love being at home in L.A., but the performer in me is excited to get back into show mode. The dancing, the costumes, my fans singing along to my songs – it's such a huge adrenaline rush. And I love tying someone up every night during 'Freakshow'!"
Piece of Me confirmed for DVD in 2015
Planet Hollywood have officially confirmed that Piece of Me will be released on DVD, saying on Twitter: "The DVD [of] her current Piece of Me show will be on sale after her shows are over, so after 2015."